Dead Cat Comedy have been running alternative comedy shows across the UK since 2012, and we're proud to welcom back to MPF for the third year. Every acy has been handpicked to deliver laughs that stay on the punk rock beat - this year you'll find the in Sandbar for two days of hardcore hilarity.
Your resilient MCs for the weekend will be our local host Red Redmond, and New Zealand export Sully O'Sullivan. Rachel Jackson and Andrew O'Neil are our multi-talented, award-winning headliners, and the full line-up offers a diverse array of comedy talent from as far afield as Canada... and Leeds.
Check out our 2022 clashfinder to find out when everyone is on!
SATURDAY
15:00 - 15:15
SULLY O'SULLIVAN (MC)
Sully O'Sullivan's been declared a highlight of the New Zealand International Comedy Festival by The NZ Herald, a highlight of the Glasgow International Comedy Festival by The Scotsman, featured on Australian TV's 'The Comedy Channel', hosted a sellout standup tour of Croatia, won Canada's annual 'Improvaganza' Tournament, and completed 2 UK national tours supporting cult Heavy Metal Comic Steve Hughes.
"Amazing" NME
"Wicked sense of humour" BBC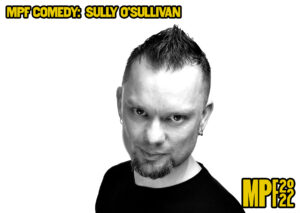 15:15 - 15:25
TONY BASNETT
North East comedy legend and host of Manchester's best alternative comedy club. Tony's speciality is music festivals, where he has built up a reputation for being a solid pair of hands. Now a resident MC for BeatHerder, Tony has also performed at Kendal Calling, 2000trees and Y Not, among many others.
"undoubtedly funny with a healthy dose of confidence" Gigglebeats
15:40 - 16:10
JAMES MEEHAN
James is a five-star reviewed stand-up comedian, actor, director and writer. As well as being reviewed as 'very funny', he's also been described as offbeat, aloof, unconventional, refreshingly nonchalant and delightfully likeable. He was part of the award-winning sketch troupe Gein's Family Giftshop. They were 2014 Fosters Edinburgh Comedy Award Best Newcomer nominees, 2014 London Sketchfest Best New Sketch Act winners, and 2014 London Sketchfest Audience Choice Award winners.
"Meehan is fast becoming one of this city's favourite stand ups" – Manchester Wire
"More than great comedy, it is a call to stand up for others and ourselves." – Ed Fest Mag ★★★★★
16:15 - 16:25
JENNY HART
Genderfluid musical comedy from one of UK's funniest gag queens. Quickfire songs that combine her own brand of Trollopop with a sprinkle of Minchin and a dash of darkness to desensitise.
"Joyously wrong and infinitely dirty, lusciously dark and often quite flirty"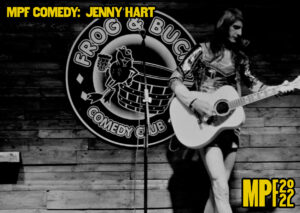 16:30 - 16:40
JEZ BROWN
Proud Kiwi, living in Britain. The least popular member of his one-man musical troupe. His acerbic wit and bittersweet tragicomedy is a production of, solution to and analogy of his life.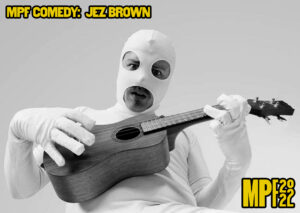 16:45 - 17:05
THE BLACK LIVER BAND
Two of the north's best loved comedians: Blackpool's Ruth Cockburn and Liverpool's Keith Carter come together to form: Black Liver. A super silly musical comedy whirlwind unlike anything you've seen before. Part music duo, part double act – Black Liver are the quirky couple you want as your best friends.
17:05 - 17:45
RACHEL JACKSON
Rachel Jackson is a Scottish actress, comedian and writer, winner of The Herald Scottish Culture Award 'One to Watch'. She was nominated for The Spotlight Prize and for best new comedian at The Scottish Variety Awards and The Scottish Comedy Awards.
You may recognise Rachel from TV shows such as Outlander, Still Game and Two Doors Down. She wrote and starred in Bunny Boiler, a six-part mini-series for BBC Three, which she also took to Edinburgh Festival. She's written three solo shows and has performed everywhere from the UK to Berlin, Beijing, NYC, Tokyo and LA.
★★★★★ Edinburgh Festival Magazine
★★★★★ The Skinny
★★★★ The New European
SUNDAY
15:00 - 15:15
RED REDMOND (MC)
Stand-Up comedian, Compére, Drag Queen and Live-Streamer. Hot off the heels of tour support for the stars of RuPaul's Drag Race including: Miss Vanjie and Miz Cracker. They host Manchester's only LGBT+ Comedy Club at Bar Pop on Canal Street. Catch them streaming most weekdays on Twitch: https://www.twitch.tv/deadcatpresents/
"The most likeable compére on the circuit" Wow247
"A rock-solid act… manipulates an audience masterfully" Chortle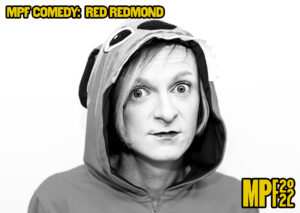 15:15 - 15:25
ANNA THOMAS
Welsh comedy wonder of the world. Anna is infinitely delightful and certainly one to watch. She serves up everything from one liners to ukelel-based musical comedy
WDFC New Act of the Year 2020 – WINNER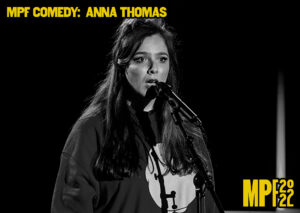 15:30 - 15:40
BOBBIE ANN-JONES
Host of Leeds' finest feminist socialist comedy club: Lolshevism. A combination of Dad Jokes and Daddy Issues, Bobbie-Ann Jones is one of the funniest prediabetic queers ever to come from the West Midlands. Big blonde bastard. Obsessed with the Legend of Zelda.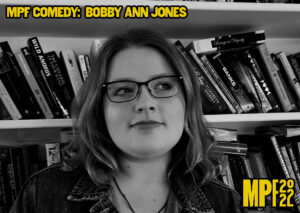 15:40 - 16:00
JACK EVANS
Surreal comedy pioneer and co-host of the popular left-wing podcast, Mandatory Redistribution Party, Jack Evans is one of the UK's freshest and funniest alternative comedians. Expect mad surrealist rants from one of Manchester's finest comedy enigmas.
"Alternative tour de force" ★★★★ EdFestmag.com
"Go see him if you like weird stuff" ★★★★ ShortCom.co.uk
"As a comedian his skills are undeniable" ★★★★ TheWeeReview.com
16:10 - 16:20
TOM KING
Tom was born funny – literally. He came out with a sugar loaf skull and the cord wrapped around his neck, looking like Jabba the Hutt's righthand man, Bib Fortuna (Google it). Tom has supported major UK acts around the country and quickly gained a raft of accolades.
"Bizarre and brilliant" Broadway Baby
"Lives up to his name as monarch of mirth" Derbyshire Times
16:25 - 16:35
LIAM BOLTON
A real comedian's favourite on the North-West circuit, with a reputation for being on the forefront of experimental comedy. Liam's bewildering, train-of-thought approach to stand-up really needs to be seen to be believed. Seeing Liam live is always hilarious, but never predictable!
"The rarest of delights: a genuinely different, engaging voice" - The Skinny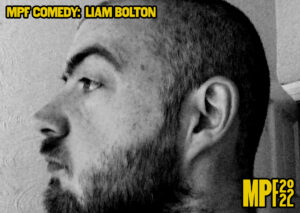 16:40 - 17:00
EVAN DESMERAIS
Touring internationally this Canuck has spread his unique come‍‍‍dy across the globe from Edi‍‍‍nburgh to Adelaide. In Canada he has performed in festivals including Just For Laughs 42, Dark Comedy Festival, Sketchfest and more. Evan has done stand up with some of the biggest names in comedy including Jim Jeffries, Kyle Kinane, and Chris Hardwick.
"Touching and hilarious" Chortle
17:00 - 17:40
ANDREW O'NEILL
Andrew O'Neill is an award-winning comedian, punk-rock musician and best-selling writer. A psychedelic non-binary whirlwind, they combine surrealism, polemic and good old-fashioned stagecraft to produce uniquely counter-cultural stand-up. Andrew has performed in over a dozen different countries, at over a hundred different festivals and is equally at home in rowdy comedy clubs as performing to their own cult following.
★★★★ Three Weeks
"So funny I put him in my new TV show" Steve Coogan
"Fast, electrifying and even funnier than the misfortunes of others" Alan Moore