Happy International Women's Day 2018!
As part of MPF2018 we're going to be running a Punk Cinema and Pop-up Record Store in the basement of Font Bar across Friday and Saturday. We'll also have some Q&As, panel discussions and film screenings – including the premiere of 'So, which band is your boyfriend in?'. The film will be having its world premiere at Font Bar on Saturday 21st April at 5pm, followed by a panel discussion.
We caught up with Suzy Harrison, the film-maker behind the documentary to ask her some questions about what it was like making the film, what inspired it's creation and if she's looking forward to sharing it with the world.
Who are you, how long have you been making films and what kickstarted the passion in the first place?
I'm Suzy – a photographer, videographer and musician based in York. This documentary, 'So, which band is your boyfriend in?', is my first and only feature-length film. Prior to this, I'd only made a few music videos and filmed some basic interviews, so there's been a bit of a learning curve! I can see how far I've come when I look back at video content I made before I started the film. I'm completely self-taught when it comes to photography and videography; I started taking photos when I moved to York as I didn't have a band to play in. Shooting gigs and running a zine meant I could still be involved in the music scene. Videography just felt like a natural progression from photography – a new challenge and just another way to capture and document the energy of music. I guess making a documentary has allowed me to combine my love of music and the DIY scene with social research, which is something I'm also interested in.
The content and film itself is quite far reaching, you've managed to pin down a lot of people. How long did it take to get what you wanted?
I started the project in 2014 with a few pilot interviews to determine whether it was worth doing the film. This was useful as it gave me content to use for the Indiegogo campaign and also helped me to practise my interviewing technique. From the beginning, I had a set of questions which I stuck to for everyone, but my aim was to let the 'research' steer the direction of the project, so I asked other follow-up questions as well. I tried to keep the interviews relaxed and more like a chat as I know how nerve-wracking it can be to be on camera. I definitely learnt things from the conversations which I hadn't even thought about at the beginning.
I finished filming in 2016. I had so many hours of footage to work through as I interviewed 36 people, and because of the relaxed approach, the interviews ranged from 10 minutes to almost an hour. The editing process was long and involved a lot of transcribing, printing the interviews and cutting them up and grouping them into themes. It was a pretty old school approach but worked for me! There's lots of stuff I couldn't include as I didn't want to make a 20 hour film – I'm thinking about putting a book together using some of that material.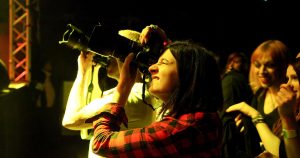 Suzy, Photo by Ed Fielding
What was your favourite part of the process of making the film?

It's not a technical aspect of the process, but meeting new people was my favourite thing about this project. I find it very nerve-wracking meeting new people as I'm a worrier and naturally shy – I was quite anxious before most of the interviews, but thankfully everyone I spoke to was really nice and not intimidating at all! It was great to hear their stories and share my own experiences with them. I feel like I've made so many new friends through this documentary and that's been amazing! I just wish everyone lived nearer so I could see them more!
You mention that it was your intention to create a film which could have an impact on the awareness of equality issues in the UK music scene. Now it's all finished, do you think you've achieved your intention?

Over the course of making this film, there has been more discussion in the media and so on about equality in music as well as in film and other creative industries, but there's still more to do. I'm hoping that once this film is out there for general public to see, that's when it will have the potential to be quite important in opening up the discussion. It's hard for me to know whether I've managed to show something new or something that people have already heard as I'm so close to the film. So, no, I don't think I've achieved the intention of the film yet – that's the next stage in this project!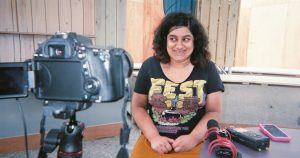 Interviewing the awesome Maryam somewhere outside, near King's Cross, London in August 2015
You used to play in Copasetics, did your experience in a band at that time help shape your art moving forward in the world of film?

I was part of Copasetics for five years and we split up the same year I started making the film. Prior to this experience I was the only woman in an 8-piece ska punk band at uni, where I knew I was in a minority but at the time I didn't notice or question anything. In Copasetics, especially when Toop joined on bass, I started noticing things more. She actually pointed stuff out to me which I'd never questioned, like why weren't there female toilets in the practice space we went to? I think I'd just put up with things and accepted them as being 'the norm' – I didn't want to make a fuss in front of the male members of the bands I'd been in as they probably wouldn't get it.
So, I feel that being a female musician has definitely been an important factor in making a film about women in music. There were things people spoke about in the documentary which I'm not sure a man would have been able to uncover in the same way, just because the experiences we have in the music industry are different. At the same time, there were things people spoke about that I didn't think about and hadn't experienced personally – like more extreme sexual harassment, but also what it's like to be a mum.
Bev, The Tuts
Finally, Manchester Punk Festival is lucky enough to be premiering the film on the Saturday of the festival, followed by a short panel discussion with yourself and members of bands playing that weekend. What would you say people can expect from this?
Definitely – I'm really pleased you wanted to show the film (thank you!). I feel that it makes sense for the premiere to be at the Festival, as it's a film about the music scene that MPF is part of. There are loads of women in the DIY/underground/punk scene in the UK and this is a film which finally gives them/us a voice. The documentary covers all kind of stuff – from how people got into music and what they love, to what's been a challenge and what's being done to overcome barriers in the scene. Ultimately I hope it's inspiring to people and makes them think. The panel discussion will be interesting to be part of as we should be able to explore some of the issues in the film a bit further… although being the worrier I am, I'm nervous already!
Kelly Kemp, The School of Frock in Exeter
'So, Which Band Is Your Boyfriend In?' will be shown on Saturday 21st April at Font Bar as part of Manchester Punk Festival. Afterwards we'll be hosting a panel discussion on the topics raised in the film and anyone is welcome to join in. On the panel will be Phoebe Cross (Happy Accidents), Bev Ishmael (The Tuts), Jenna & Marcia (Mobina Galore), Suzy Harrison (So, which band is your boyfriend in?) and maybe some more too!
One of our main aims of MPF is to provide an environment where everyone is accepted and comfortable. Providing a platform for many different people to perform and have their say whether it's through music or another form of art such as zines, comedy or poetry. Below are a bunch of links to bands playing this year featuring women/non-binary members as a celebration on International Women's Day, make sure you check them out!
Arboricidio
Brassick
Carol Hodge
Casual Nausea
Christmas
Crumbs
Dream Nails
Drones
Finisterre
Fresh
Gutter Romance
Happy Accidents
In Evil Hour
Incisions
Lucinda Livingstone
Meinhof
Millie Manders (acoustic)
Mobina Galore
Natterers
No Matter
Propagandhi
Roughneck Riot
RUSSO
Stand Out Riot
Svetlanas
The Baby Seals
The Lab Rats
The Spook School
The Tuts
Witch Fever