As part of our MPF2020 online festival this weekend, we're going to have a live beer tasting with Sam McGregor, co-founder of our pals over at Signature Brew.
This 'working' really relies on one thing – YOU drinking along at home. We're going to be tasting a range of beers, including the brand-new NIGHTINGALE. A beer brewed with the women of Manchester Punk Festival which, when the festival was cancelled, we repurposed into a beer dedicated to the staff of the NHS. £1 from each of these beers sold goes directly to NHS Charities Together.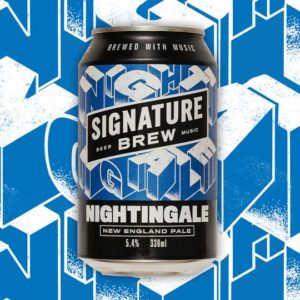 You can order the "MPF Drink Along" box directly from Signature Brew HERE and if you order before 3pm on Wednesday 22nd April, you'll get it in time for the MPF weekend! Use the discount code "MPFXSB" for 10% off and remember that each pack sold raises £8 for NHS Charities Together.
THE BOX INCLUDES 24 CANS:
8x Nightingale (Brewed by the women of MPF) – New England Pale
4x Roadie – All-Night IPA
4x Studio Lager – Pilsner
3x Backstage IPA – India Pale Ale
1x Nightliner – Coffee Porter
2x Stylus – New England IPA
2x Pink Vinyl – Fruited Gose
Apply 'MPFXSB' at checkout for 10% off. If you don't want/need 24 cans, you can order as much/little as you want from their store and the discount still applies!