Absolutely buzzing to make our first round of band announcements on this fine morning.
Our super early bird and early bird tickets sold out yesterday in a ridiculously quick time but we still have our standard tickets on sale. Last year sold out in advance so be quick!
We are honoured to be able to add legendary San Francisco-based punk rockers Dead To Me to the MPF2019 line-up, one of our most requested bands so you've got what you asked for! We are also really pleased to finally welcome heavy as f*ck outfit Doom in to the mix, a band we have been hoping to have for a number of years so pleased to get it done. Along with that, we are very pleased to confirm that UK ska punk legends King Prawn are heading up to Manchester to get you all bouncing.
We have our first ever band from Israel joining us next year, the wonderful Not On Tour will be making the trip over. One of our favourite bands, Consumed, are finally joining the party because they've been granted a day off from Daddy duties and we are also pleased to see the return of Joe McMahon to MPF, this time he's bringing his band The Dockineers with him.
We are very excited to tell you that we have the return of three of our favourite UK bands in crack rockers The Infested, Swansea punks The Arteries and Manchester party emotional rockers Well Wisher who are all making a rare appearance on stage. What's MPF without a little reunion party!
Melbourne's brilliant Press Club make their first trip over to the UK and Calvinball worshippers Arms Aloft make their long, long-awaited return to Manchester.
The punk rockers in Youth Avoiders are heading over from France which we are proper excited about. The beautiful looking Welsh nightmares in Grand Collapse are coming back to remind you why they are one of the best bands on the scene. Also coming over from France, we have Jodie Faster who are sure to impress.
We get a lot of grief from the reprobates down at Level Up so we've added some more banging ska punk to shut them up, welcoming back TNSrecords favourites Faintest Idea from Kings Lynn and the ever more popular Call Me Malcolm are finally coming up to the Norff from Landan.
We have been trying to bring Svalbard up to Manchester for a while now too so very pleased to have them involved and our Yorkshire boys in The Human Project are coming to party off the back of their latest album release.
Fans of Leatherface will be confused to hear Mean Caesar are actually a different band, they'll be coming up north for the first time for MPF and Woahnows are also coming back after playing in 2017. Making the trip from the Midlands we've got the party punks in Slumb Party and queer indie punks in Kermes. The Winter Passing will also be bringing their hook heavy punk rock and Irish accents over from Dublin!
We always want to invite bands to sunny Manchester from as far away as possible. This year is no different. We have the incredible Wolfrik mooching over from Canada, one of the most exciting new bands around and representing the cretins at Lockjaw Records. Dutch punk rockers March are also getting involved, great to watch live and are known to be big fans of Oasis club nights we hear.
There's a lot of southerners knocking about on this line up, maybe too many. We have Essex hardcore moshers Eat Dirt along with the amazing Screech Bats and the always entertaining Poisnous Cxnt, both heading up from London. To counteract that obvious blip, we've added more Northerners. Local pale faced pricks Incisions are making their 2nd appearance for us along with the wrong'uns in Jenkem from Warrington and the brand new Manchester band Follow Your Dreams featuring members of the Moston Cat Club and Rising Strike.
We also have Grafteoke providing the mother of all after parties with their full band karaoke and the wonderful Janus Stark who you may recognise front man, Gizz Butt who played guitar for The Prodigy at the height of their fame in the late 90s.
This year the acoustic stage will actually be known as the almost acoustic stage and we are delighted to welcome firm fan favourite Sam Russo, our resident gangster Tim Loud who is bringing his full band, Joe Tilston & The Embers Band, new step sitting outfit Sallows and the awesome Jake Martin.
There's tons more to be announced so keep your eyes peeled, but not so peeled it hurts as that's just dangerous and irresponsible.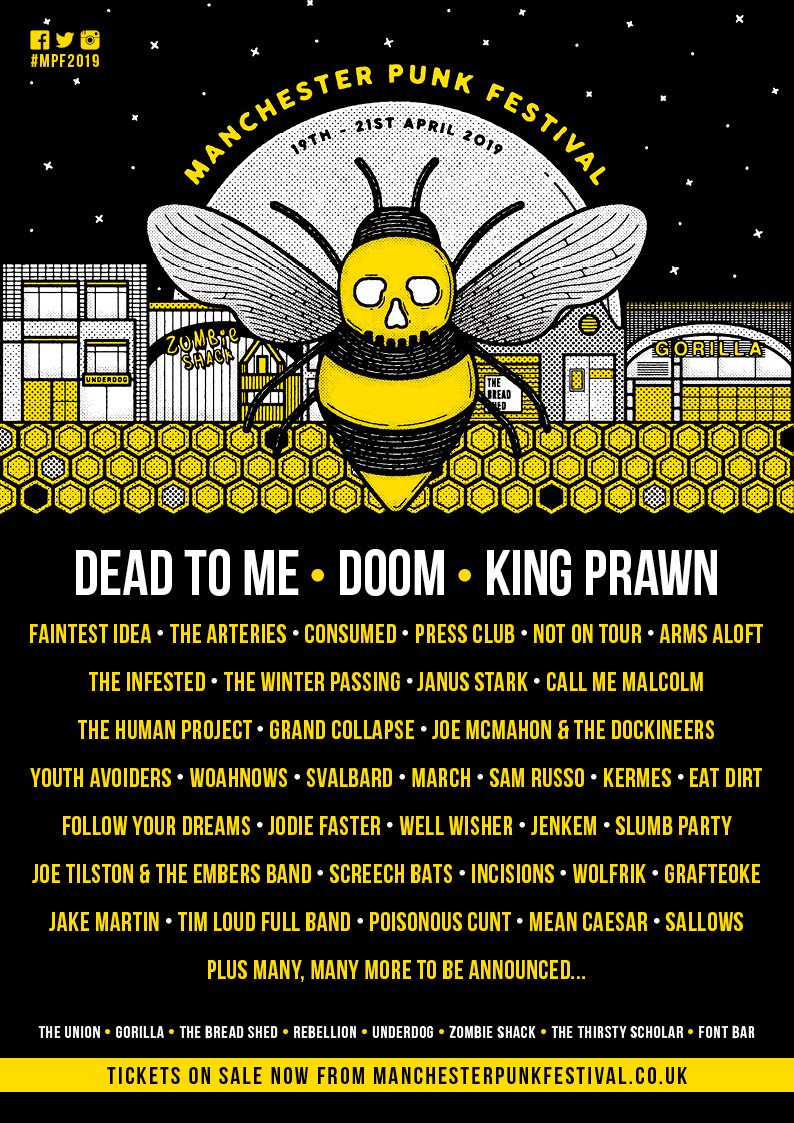 Also, you would have heard about this announcement early if you'd have downloaded our app!