It's back! After the success of 2019's Punk Poetry stage, we've amassed another gang of punky wordy performers for 2022. There may not be many moshpits, but expect a tonne of rhyme & verse, stories & stanzas, humour & politics, honesty & passion. The perfect spot to come for an afternoon chill (and nurse that hangover).
Check out our MPF2022 Clashfinder to find out when everyone is on.
Saturday
13:30 - 13:50
Crow Rudd
Crow is a disabled nonbinary queer published poet and slam champion whose work focuses on mental health, grief, politics and the power of cuddles. Creator of Sad Poets Doorstep Club, founder of the UK Trans & Nonbinary Poets Network and reigning Stanza Slam champion, their debut collection 'i am a thing of rough edges' is out with Whisky and Beards.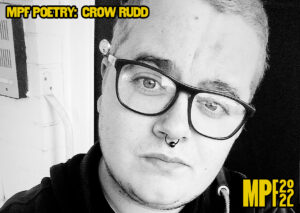 14:00 - 14-20
Paul Case
Paul Case is a spoken word performer who has been performing stories, songs, poems and monologues since 2008. He has performed all over the UK and beyond in Germany, Thailand and Australia. His spoken word theatre show, Dead White Anarchists, is currently doing the rounds. "You wouldn't believe the passion... Blinding!" - Steve Ignorant, CRASS/Slice of Life
14:30 - 14:50
Henry Raby
Hailing from the mean streets of York, Henry's poetry has been described as playful, highly-charged, passionate and anarchic. When he's not ranting about 18th century political movements, he's finding the rebellious spirit of nerd culture. Henry co-runs York spoken word organisation Say Owt and co-hosts the Vandal Factory podcast on East Leeds FM, looking at the magic moments where art and activism meet.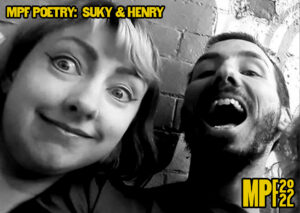 Sunday
13:30 - 13:50
Sophie Sparham
Sophie has written poetry commissions for Writing East Midlands, BBC Radio 4, The V&A and The People's History Museum. Sophie gave a Ted X Talk at the University of Kent about how spoken word can improve our cultural awareness. As seen at Y Not, Shambala, Rebellion and Bloodstock.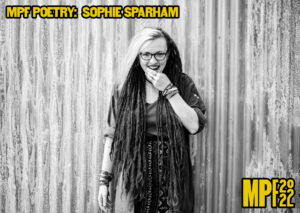 14:00 - 14:20
Jay Mitra
British Indian punk poet and music journalist from Yorkshire.They are a UK Slam Champion and winner of the Margate Bookie Making Waves poetry award. Jay has performed in various festivals, including BBC's Contains Strong Language, Freedom Festival, Leeds LGBT Lit Fest, Humber Mouth Festival, Wakefield Lit Fest and is currently a member of Manchester-based poetry collective Young Identity.
14:20 - 14:50
Henry Raby & Suky Goodfellow: Grim Folk-Punk Tales
York-based Henry and Edinburgh-based Suky unite to present a unique collaboration of twisted punk-folktales. Henry & Suky have rewritten, reimagined and ripped apart the tradition of fairy and folk tales for the gritty, shitty 21st century.